Your DNA is what makes you,
uniquely you
The color of your eyes, your body's response to medicines, how well your body takes in vitamins.
These are just some of the things that your DNA has an effect on you. Your DNA makes you unique.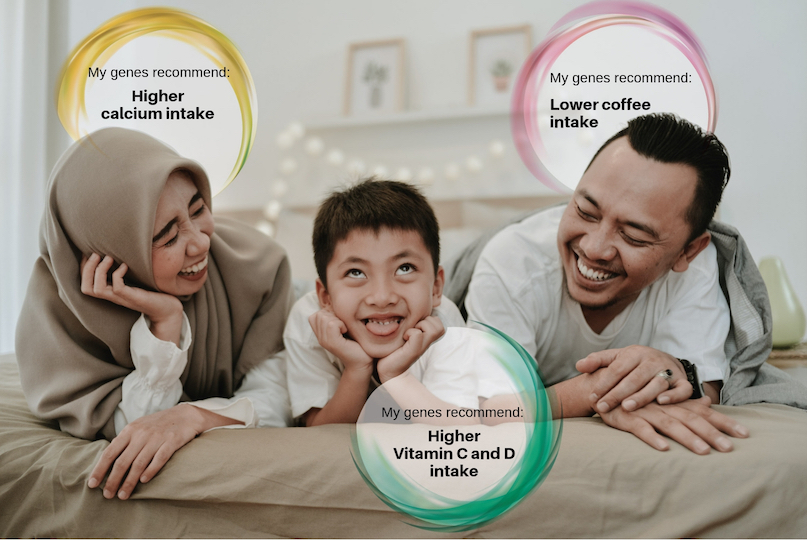 Explore Your DNA Today.
Uncover your genetic predispositions. Manage your lifestyle with personalised recommendations.

Here are all the reports that you need for better health.
121 reports on:
Nutrition
Weight Management
Fitness
Inner Potential
Skin
Allergy
Health Risks
---

Planning to have a baby but worried that you may carry genetic mutations?
13 reports on:
Genetic mutation screening for recessive genetic disorders
Comes with Individual Comments from Professional Genetic Counsellor
---
It's Time To Look At The Bigger Picture,
For You & Your Family
Health is not one dimension.
To live smart and eat smarter, we will help you see the bigger picture, in many dimensions.
Your DNA Is Just The Beginning
You are born with a unique genetic blueprint. We will analyse nutrition-related genetic markers that are based on research.
Your Lifestyle Unlocks Another Dimension
Your body metrics, lifestyle, dietary preferences, physical activities makes up a large part of the bigger picture.
Your Health Goal Completes The Picture
Without a health goal, is like driving without a destination. Your health goal will serve as the main navigator when you're eating smart.
Hear From Our DNA Explorer Community
What Can Your DNA Tell You
About Yourself
Decode your genes. Discover traits that can affect you, and learn how you can start eating smarter.
What You'll Get
Get an even more comprehensive understanding on your health risks, nutrition and fitness traits based on your DNA.
Get personalised recommendations on what you can do to manage your lifestyle.
Learn More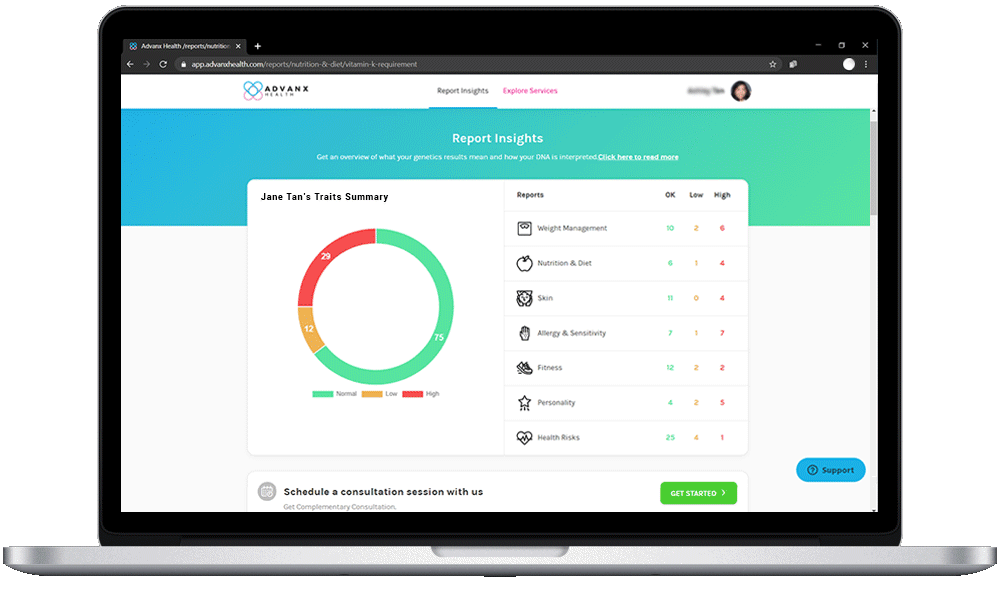 How It Works
From your toenails to the color of your hair, every part of your body contains genetic information.
With your genetic profile, combined with your health goals and current lifestyle, you will get a personalised report with actionable insights!

Learn More About The Process
Explore your hidden potentials with your loved ones
Our DNA Explorer Plan is a great gift for your loved ones to embark on a journey of self-discovery.
Check it out >
Have some questions?
Here are some of the questions that we are asked frequently.
If you don't see your questions here, get in touch!
No, this process does not involve drawing blood. We can obtain your DNA from the buccal epithelial (skin on your inner cheeks) cells and white blood cells found in your saliva.
No, once you've made a purchase, we'll send you a saliva collection kit and you can provide your saliva sample at the comforts of your own home. Once you've collected your saliva in the given tube, all you need to do is send it back to us with the provided prepaid envelope (no extra cost!).
The DNA in saliva originates from cells that are shed from the inner linings of the mouth and from white blood cells. These DNA-containing cells are collected, and the DNA is then extracted by various methods. Research has revealed that salivary DNA is equivalent in quantity and purity to DNA obtained from blood, and that the stability of salivary DNA is good when proper methods of handling are employed.
Reference
Abraham, J.E. et al. (2012). Saliva samples are a viable alternative to blood samples as a source of DNA for high throughput genotyping.
There are many steps that we need to take to ensure that we provide the most accurate reports from your DNA, from checking if your saliva sample contain enough DNA, to scanning your DNA for SNPs. The whole process should take about 6–8 weeks once we've received the saliva sample from you.
Once your report is ready, you will be notified via email. Your report will be available online through your password-protected account on our platform, which you would have created when you made the purchase.
In order to tie your saliva sample to your account, you will need to register your kit once you've received the saliva collection kit. You will register the unique barcode on your account, so that we know that the saliva sample belongs to you. Our lab cannot process your saliva sample if it is not registered.
Spin to win
Subscribe to Our Newsletter
Get the latest info on health and wellness.

;