Get Tested From The Comfort Of Your Home
Fast, easy-to-use, affordable. Order now from RM80 / test*!
For healthcare professional use only.
Request For Quote
Fast, Convenient & Safe
The STANDARD Q COVID-19 Ag Saliva Test is a rapid chromatographic immunoassay for the qualitative detection of specific antigens to SARS-CoV-2 present in human saliva specimens. This test is an aid to early diagnosis of SARS-CoV-2 infection in patients with clinical symptoms with SARS-CoV-2 infection.
This test provides only an initial screening test result. Therefore, any reactive specimen with the STANDARD Q COVID-19 Ag Saliva Test must be confirmed with alternative testing method(s) and clinical findings.
Find out if you have been infected by COVID-19 with this simple and easy-to-use rapid test kit.
What's Included
How It Works
Order your kit online.
We will ship out your order within 1 - 3 working days.
Upon receiving your kit, read the instructions carefully.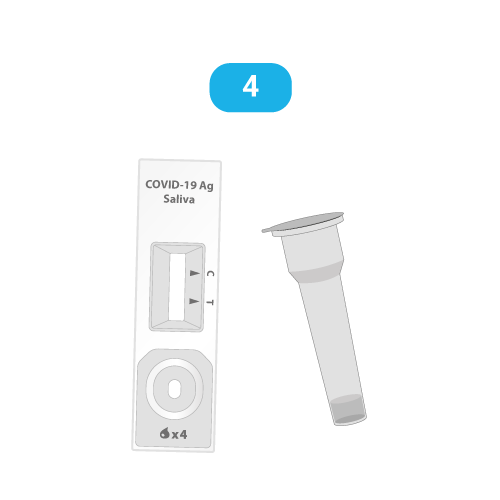 Follow the instructions given and complete the test.
How to Use the Kit
Do not eat, drink, smoke or chew gum for 30 minutes before giving your saliva specimen.
The specimen collection cup should not touch the mouth.
The saliva with snorted nasal mucus should be collected enough to cover the bottom of the specimen collection cup.
Drain mucus from the back of the nose and throat at least 3 times.
Lift the specimen collection cup close to your mouth and take a deep breath in and cough hard directly into the specimen collection cup.
Lift specimen collection cup close to your mouth and spit out saliva with snorted nasal mucus into specimen collection cup.
Stir saliva with sterile swab more than 10 times to mix the mucus and saliva well. Collect the saliva except the mucus using the swab. The swab must be sufficiently soaked by saliva.
Allow test device and collected specimen to room temperature prior to testing.
Carefully read instructions for using the STANDARD Q COVID-19 Ag Saliva Test.
Check expiry date at the back of the foil pouch. Do not use the kit if the expiry date has passed.
Check the test device and desiccant pack in the foil pouch.
Insert soaked swab into an extraction buffer tube. While squeezing the buffer tube, stir the swab more than 5 times.
Remove the swab while squeezing the sides of the tube to extract the liquid from the swab.
Assemble the nozzle cap tightly with the tube.
Apply 4 drops of extracted specimen to the specimen well of the test device.
Read the test results in 15 - 30 minutes.
Next Steps
What To Do If Test Results Are Positive
Contact the Crisis Preparedness and Response Centre (CPRC)  at 03-88810200 / 03-88810600 / 03-88810700 or [email protected]
If results turn out positive, please direct the patient immediately to the nearest hospital available with diagnostic tests for COVID-19. You may refer to this list here.
What To Do If Test Results Are Negative
Take another test in 3 - 7 days.  The results may turn out to be negative because the patient is in a very early stage of infection, hence the test is unable to detect the antibodies in their blood. To be sure, they are advised to take another test after several days.
What To Do If My Test Results Are Invalid
If results are invalid, it may be due to operational error in conducting the test. Please be advised to not re-use the rapid test kit and obtain a new one to conduct the test again. If the problem persists after several tests, kindly contact us at [email protected]
How to Read Result

Frequently Asked Questions (FAQ)
Within 15 to 30 minutes, you will be able to know the results based on the lines that appear on the test cassette.
The overall relative sensitivity of the STANDARD Q COVID-19 Ag Saliva Test is around 94%. However, please be reminded that this is not a diagnosis, but only a preliminary screening test. Kindly be advised to get professional medical consultation after obtaining your results.
If the test appears positive, as per guidelines outlined by the Ministry of Health, the patient is advised to use virtual advisory services before proceeding to the designated hospital. A second and more detailed screening might be needed for further assessment.
If the test appears negative, from the safety perspective, patients are recommended to consult a doctor for further assessment. A second and more detailed screening might be needed for further assessment.
If the result is invalid, you will be required to purchase a new STANDARD Q COVID-19 Ag Saliva Test. Please be sure to follow the instructions given as the test cassette CANNOT be reused.
Bulk purchases will allow us to procure the kit at a lower price and bargain a lower shipping fee from our suppliers from overseas. Please drop an email to [email protected] for further details and arrangements.
Coronavirus is a single-stranded positive-sense RNA virus with an envelope of about 80 to 120 nm in diameter. Its genetic material is the largest of all RNA viruses and is an important pathogen of many domestic animals, pets, and human diseases. It can cause a variety of acute and chronic diseases. Common signs of a person infected with a coronavirus include respiratory symptoms, fever, cough, shortness of breath, and dyspnea. In more severe cases, infection can cause pneumonia, severe acute respiratory syndrome, kidney failure, and even death. The 2019 new coronavirus, or "SARS-CoV-2 (COVID-19)", was discovered because of Wuhan Viral Pneumonia cases in 2019, and was named by the World Health Organization on January 12, 2020, confirming that it can cause colds and the Middle East Respiratory Syndrome (MERS) and more serious diseases such as acute respiratory syndrome (SARS).
Get Quote Now
Leave your details here and our staff will get back to you